Inside parcelLab: Thiago im Job-Interview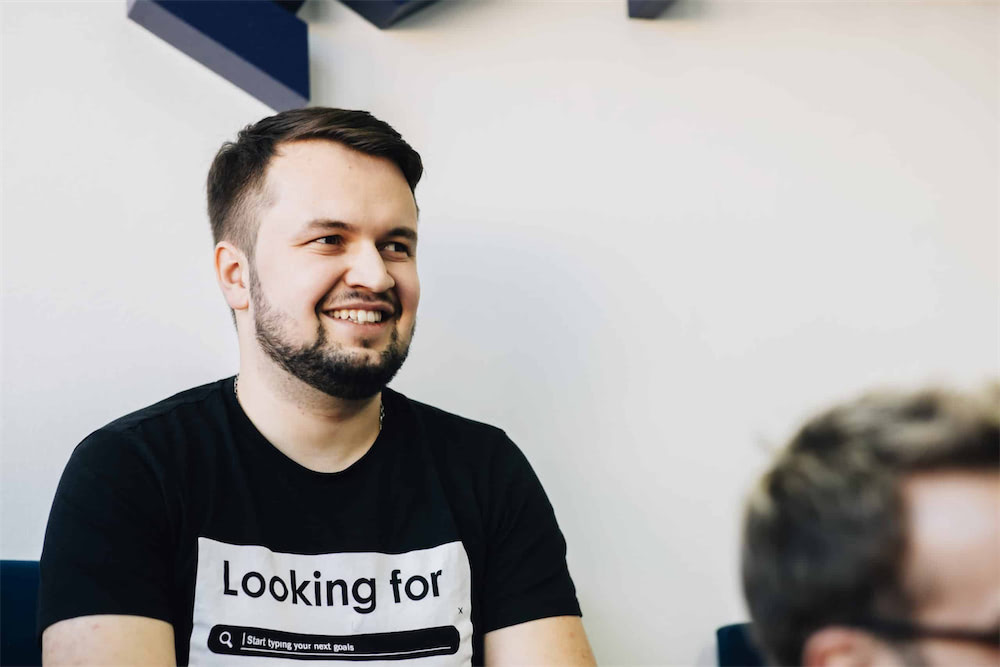 The most important things at a glance
Name: Thiago Tausendfreund
Age: 25 years
Position at parcelLab: Solution Architect (Sales)
Origin: Freystadt
1. briefly tell us what your daily work routine at parcelLab is like?
I come into the office in the morning and first do a quick round, exchanging a few words with one or two colleagues. Then I grab some muesli and my morning coffee - and off I go to work. I spend most of the day on the phone with potential customers, preparing offers or contracts, giving presentations and dealing with any concerns our existing customers may have. Every now and then I go to trade fairs/events or have an appointment directly with the customer.
2. What does your professional career look like?
After school, I trained as a wholesale and foreign trade merchant in a plumbing and heating wholesaler and then worked in customer recovery for Telefónica Deutschland for 2.5 years. Here I finally decided for myself that I wanted to continue working in sales in the future. After my time at Telefónica, I took part in further training to become a business administrator and a business economist before I finally ended up at parcelLab.
3. What do you like most about parcelLab and your job?
I can learn a lot of new things and I just love selling our innovative solution to potential customers.
4. What do you think makes parcelLab unique?
I can't imagine working at any other company. During my time at parcelLab, I have already been able to learn an enormous amount. Every day there is something new, because no two days are the same. There are new challenges every day, which you can master on your own or together in a team. You grow with your tasks and the company. This development happens at an incredible speed.
5. What are the characteristics of the perfect parcelLab applicant?
The perfect parcelLab employee should be able to work independently as well as in a team. It is also important that he or she fits well into the team on a personal level.
6. How would you describe the working atmosphere at parcelLab?
I find that the working atmosphere at parcelLab is usually relatively relaxed. You can organise your day freely and arrange your work yourself. Of course, there are times when it's a bit busier - but that's never been a problem.
7. What has been your favourite moment at parcelLab so far? And why?
In the 3.5 years I've been here, I've had so many great moments. That's why I just can't pin it down, because there are so many good memories. I look forward to going to work every morning (yes, even on Mondays!).
8. What qualities and strengths have you gained during your time at parcelLab?
I have become much more confident in dealing with customers - whether in person or on the phone. In addition, I can now better empathise with my customers and their processes and problems. This helps me to adapt our solution perfectly to the customers' needs.
9. What makes Munich so attractive to you?
Munich is simply a very beautiful city. The proximity to the mountains is ideal for skiing and motorcycling. Otherwise, there is always something to do in Munich. For all sports or event enthusiasts (Tollwood, Wiesn etc.) there is something to do. Otherwise, you can just sit in a beer garden or on the banks of the Isar. Munich simply has the perfect mix of tranquillity and hustle and bustle.
10. How would you spend your perfect weekend?
I don't have any clear preferences, because I usually do whatever I feel like. It doesn't matter if it's a relaxing weekend or an eventful one. As long as the right people are there, it's all good.
11. What three words would your colleagues use to describe you?
Head of Lunch
Would you like to be part of the parcelLab team? Then simply apply to join us! Here you can find our job offers.
Join us in creating an outstanding customer experience. We look forward to hearing from you!
Written by
Create new reasons for people to love your brand. Build standout post-sales experiences tailored to your customers. Deliver personalized touch points that grab attention and spark loyalty.
Read more from parcelLab
More from the category parcelLab