Why emojis are becoming indispensable in marketing in 2017
Emojis are seamlessly integrated into messages by most users of electronic communication. There are now over 1,600 official emojis, all based on Unicode characters, which have consistent coding and thus track trouble-free display on all platforms and devices. They shorten statements that would otherwise have to be awkwardly paraphrased to the bare minimum - true to the motto a picture is worth a thousand words. In 2015, the Oxford Dictionary even named the emoji word of the year. The little pictures are therefore on the rise.
Emojis as a marketing tool
In the last year, the use of emojis in emails has increased by 7100%. This is a trend that companies should also take advantage of. When used properly emojis can make an email stand out in the inbox. With today's flood of email inboxes, this is well worth striving for. For example, a subject line should be 30 to 40 characters to be appealing on mobile devices - how do you generate enough attention to even get an open?
Cleverly placed emojis, for example the popular snowman ⛄, usually have a positive effect on open rates: 65% of companies that use emojis in the subject line of their mailings achieve more opens. However, their relevance should definitely be taken into account. Emojis add humor and a certain playfulness to a message. This should be compatible with the rest of the message, because emojis serve a purpose and should be used wisely.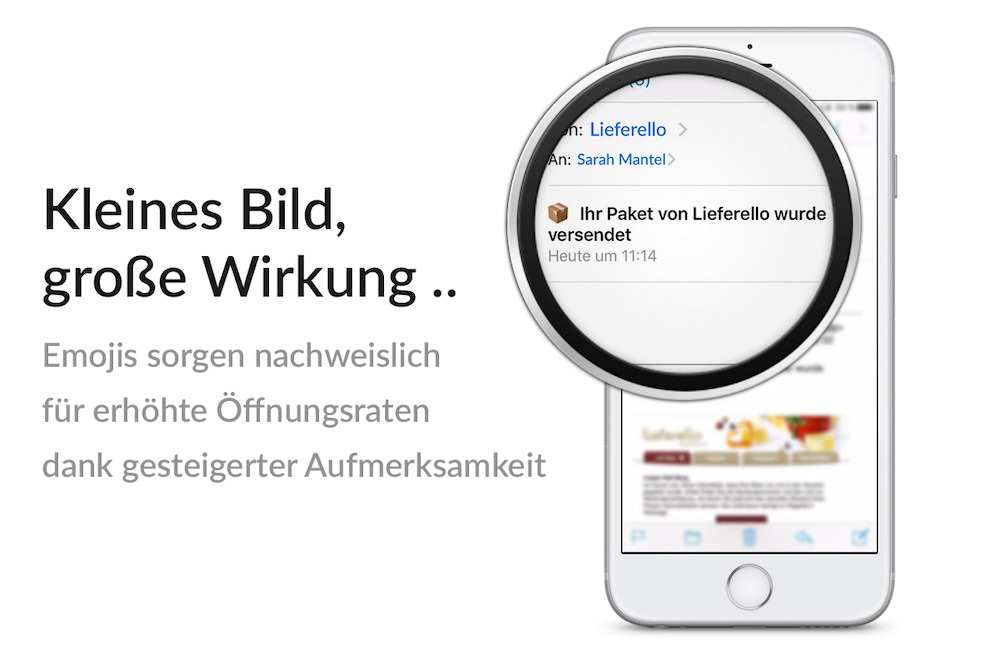 The necessary software
While using emojis makes perfect sense, there is also a lot to consider. For example, not all operating systems or devices display emojis. Users of Windows XP cannot recognize them at all, and with Windows 7 they are displayed in black and white at most. Only with Windows 8.1 is a problem-free display possible. Apple OS X supports emojis from version 10.7, which is why they are recognizable for most Apple users. Mobile devices are rather emoji-friendly, and the images are displayed in full for most users.
Many email programs are capable of displaying emojis, but depending on which operating system is used, the results can vary here as well. The exception is Gmail - the application has its own emojis and therefore always displays them correctly. A/B tests make sense in any case to see how the selected emojis are displayed on different operating systems, because perhaps a Google-owned version does not look as appealing as originally thought.
The technical implementation
How should emojis be inserted at best? One option is integration via the email service provider (ESP), although many providers do not yet offer emoji support within the application. Mailchimp is the rare exception. Alternatively, emojis can be copied from a database and pasted via a WYSIWYG program. Suitable databases include Get Emoji or Emojipedia. The third option is to include the emojis directly in the HTML code. However, in doing so, the emojis should be used as HTML entities instead of just being copied and pasted. The respective codes can be found at iEmoji or Character Code.
Efficient Emoji Marketing
.
Brands use emojis primarily to attract attention, not to express emotion. They are suitable as a visual 'shortcut' to the brand or topic, plus they tend to have a positive connotation and are not necessarily perceived as advertising. The rise in the use of emoji marketing in emails has been strongest in retail - particularly popular usage time here is around the holidays. Branded emojis like those used by Starbucks are also a powerful marketing tool.
For online retailers, a particularly appropriate use of emoji marketing is in the area of shipping notifications. With open rates of 70% thanks to personalized messages from parcelLab there is enormous potential here for one's emails to be read by nearly every customer. An appealing emoji in the subject line may bring even the last undecided customer back into the store via the email. We already incorporate emojis into many of our notifications. There is also the perfect solution for your shop - let us advise or test yourself!
Written by
Create new reasons for people to love your brand. Build standout post-sales experiences tailored to your customers. Deliver personalized touch points that grab attention and spark loyalty.
Read more from parcelLab
More from the category Trends