Time for online retailers to avert a mobile commerce crisis
Online retailers have never had it so good! While traditional physical retailers continue to struggle to draw customers into their stores, online shopping has never been so popular. This is particularly the case with mobile commerce. Smartphones will deliver 68% of all ecommerce traffic this season, an all-time high. This reflects 19% year-on-year growth, according to Walker Sands research for Salesforce.
However, there are signs that complacency might be creeping in. Online retailers appear to be resting on their laurels when it comes to the mobile commerce experience. Two-thirds of European consumers believe it has not improved over the past year, according to Adobe research. That's the same response the study received in 2017. And that's mobile commerce consumer discontent for two years running.
Turning to social
But is this really a problem? Consumers are never happy, right? And where else are they going to shop? Certainly not back on the high street!
Well, they may still 'buy' online through their mobile. But shoppers are increasingly turning to mobile social media to research for bargains first. So they are not actually 'shopping' on their favourite online retailer sites, simply clicking to buy via a social channel. And this is just as likely to be directly from a brand than a retailer. Almost a third of European shoppers are now doing this, according to Adobe.
This indicates people are disengaging from online retailers via their smartphones due to the poor mobile commerce experience. In fact, one in six now finding it 'stressful' to shop on mobile.
Social Shopping is getting more famous. (source: Eric Lucatero)
Time to review
With ecommerce traffic increasingly coming via mobile, this could be seen as a crisis. Retailers wooed shoppers away from the High Street with convenience, choice and value. However, they seem to have ignored the race to mobile. Or at least failed to get to grips with the fact that smartphones demand a very different approach to PCs, laptops and tablets.
It's imperative they review the mobile commerce experience they are delivering to consumers and fast. Plus those that do it the fastest will win the mobile race over their rivals. So where should they start?
###Optimize your shipping process by using post-purchase communication
Customer feedback
Asking their own customers directly how they think their mobile shopping experience could be improved is the place to begin. They should have an up-to-date customer database at their fingertips. So they can carry out their own research to find out specifically what customers are looking for – or finding stressful! Then they need to act quickly on the findings.
To ensure they stay on track, online retailers should go through this process regularly. Incentives to engendering a response could be a discount on their next purchase, for example. And a great time to do this is during the post-purchase phase. At this time, customers are used to getting emails and texts on the progress of their order and are much more receptive. In fact, research shows emails at this time achieve 70-80% opening rates.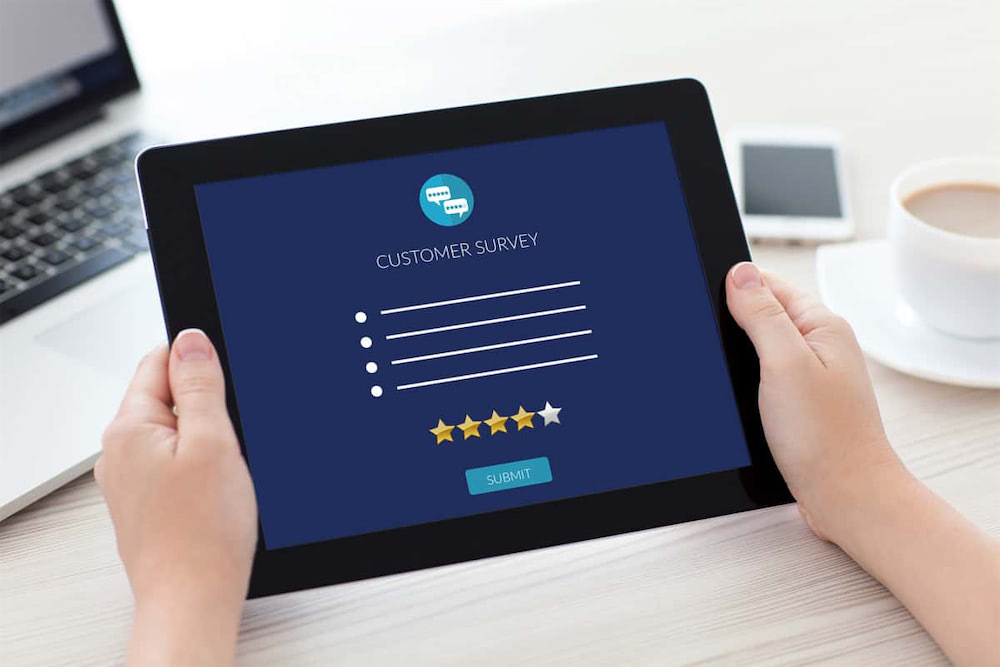 Asking your customers for feedback can help a lot.
Mobile commerce quick checks
While waiting for their research results, here are some quick checks online retailers can carry out to improve the m-commerce experience for customers…
1. Keep things simple
Make each page readable and visually simple – don't try to squeeze in everything that's on your desktop site pages, but rather design for a small screen.
2. Put the customer in control
Your first page and landing pages that visitors may access from outside your site should have clear signposts to tell people what they need to know and direct them where they want to go quickly.
3. Go with the scroll
The layout of popular social media channels mean that people have got used to being able to scroll down through content. So make sure your site enables visitors to do this, say through product categories, and then through individual products, with a filter option so they can narrow down their choices quickly.
4. Watch your image sizes
Images are a vital part of your webshop, and you should use as many as possible to provide shoppers with all the visual information they need to make a well informed purchase. This makes it essential to ensure they are not too big. Mobile phones don't always have the best data connection and big images can mean slow loading pages which can be a huge turn off for customers.
5. Make it easy to review
When browsing, customers will want to compare and contrast products, so make it easy for them to access ones they've previously viewed.
6. Think touchscreen
Remember that the active elements on your site pages need to be big enough for visitors to touch easily with their fingers – anything too fiddly will put customers off.
7. Don't forget post-purchase
Ensure the mobile experience doesn't end at the checkout. Make sure post-purchase communications are also mobile friendly and styled like your mobile site for ease of use, continuity and consistency of message.
Written by
Create new reasons for people to love your brand. Build standout post-sales experiences tailored to your customers. Deliver personalized touch points that grab attention and spark loyalty.
Read more from parcelLab
More from the category Research