The 5 top trends in parcel logistics
According to statista, one in four Germans between the ages of 14 and 49 shopped online at least once a month in 2015. The e-commerce market is growing steadily and is now one of the most important areas of trade - the parcel logistics industry is booming! But the sector also has its weaknesses and problems, as was already evident in our Parcel Study. For example, delivery problems increase three to five times in villages and smaller towns compared to large cities. The most likely delivery time for parcel services is between 10 a.m. and 1 p.m. - and thus in a period when the majority of the population works. Logistics service providers have already recognized these problems and are thus continuously developing new ways to deliver parcels more efficiently. In this article, we show the top 5 current logistics trends.
1) "Anticipatory Shipping"
Amazon has already filed a patent under this name. The model aims to transport goods to the region of the potential customer even before the order is placed. This can work because of Big Data, which helps online retailers anticipate their customers' buying behavior. This means that deliveries can be made faster and at lower cost.
2) 3D printing
Amazon has also patented the idea of mobile 3D printers. Goods can be manufactured and presented to the customer freshly printed only during delivery. Currently the printers are not yet suitable for everyday use, however because they are too sensitive to the inevitable bumps in traffic.
3) Autonomous driving
Logistics company DPD worked with two research institutes to develop a thesis paper on future scenarios of autonomous driving. Among the scenarios developed is the idea of driver and vehicle meeting directly near the delivery area after the van has already been loaded at the parcel center. Furthermore, mini-transporters could follow the parcel delivery driver at walking pace in pedestrian zones, or mobile pick-up stations could be available on demand near the customer - the possibilities are numerous.
DPD's presentation of autonomous delivery vehicles (Image: www.dpd.com)
4) Delivery location: The own trunk
If a parcel is not handed over to the buyer directly at the first delivery attempt, there can often be long delays before the customer actually holds his parcel in his hands. As also described in our parcel study, pickup is strongly influenced by opening hours, speed of delivery and store density. The new concept could provide a remedy: shipments are delivered directly to the customer's own car trunk. This service is being tested, for example, by Volvo in Stockholm and DHL in cooperation with Smart. Parcels can thus be received at any time of day or night and returns can be taken along free of charge. This eliminates the need to pick up parcels at the store. All that is required is registration on the website and installation of an app - the rest is automatic. However, care should be taken not to park your car in locations that are difficult to locate or inaccessible to the parcel carrier. If reception is disrupted, the lock cannot be opened.
5) Goods delivery by drone, robot, airship and co.
New forms of goods delivery are -especially at present-at the center of further developments in the industry. That's where even large companies see the potential for new ideas. Mercedes-Benz presented for example, the concept "Vision Van" at the IAA 2016: a delivery van drives autonomously to the target area and two drones located on the roof bring the packages to the respective final destinations. Self-driving robots can also take off from the van, deliver packages and eventually return to the belly of the van. Another model called "Vans and Robots" is based on regular Sprinter vans equipped with a racking system and ramp. The driver hands over packages to a delivery robot from the startup Starship, which rolls independently to the recipient on its six wheels. The small robots are controlled by the control center and are able to communicate with their environment.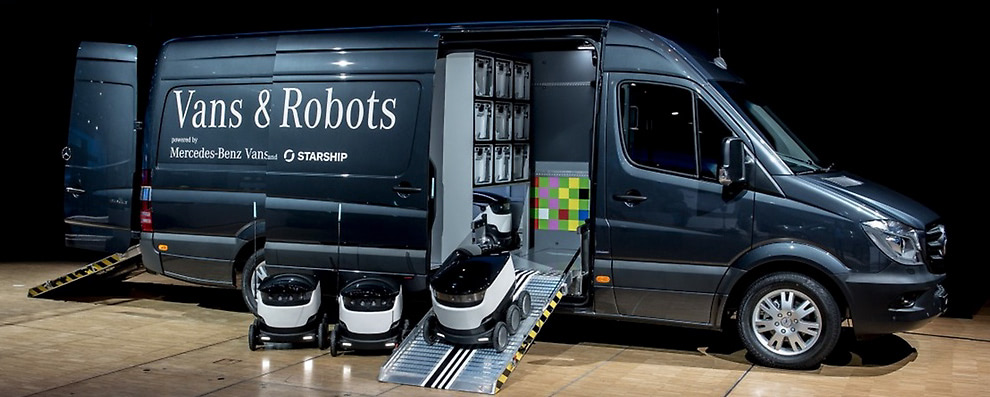 Vans & Robots from Mercedes-Benz and Starship (Image: www.daimler.com)
In cities with a lot of congestion and high CO2 emissions, the idea of load bikes is increasingly gaining acceptance in all possible variations and under various names. Things get even a degree more futuristic at Amazon - the online giant had airships patented. They serve as warehouses that hover over the city and distribute packages via drones.
Which trends will fully take hold in the future remains to be seen. But one thing is clear - a lot will change in parcel logistics. Customers are placing more and more value on the customer experience during shipping, and this is challenging logistics providers and retailers alike. With our solution, we too are helping to improve customer satisfaction - for the best shopping experience from purchase to unpacking.
Written by
Create new reasons for people to love your brand. Build standout post-sales experiences tailored to your customers. Deliver personalized touch points that grab attention and spark loyalty.
Read more from parcelLab
More from the category Trends