5 shipping tips for Christmas: How online retailers can get through the Christmas season stress-free
Soon, not only Christmas will be around the corner again, but also the big chaos. Children lie screaming on the floor in the department store, parents wander through the shelves of the stores and the boyfriend is desperately looking for the right gift in the socks department. To escape this stress, many choose to shop in online stores. Many online retailers have already worked through their Checklist for Christmas. And that's important, too, because already 21 percent of Germans buy their Christmas gifts online. Last year, the share was still at 12 percent.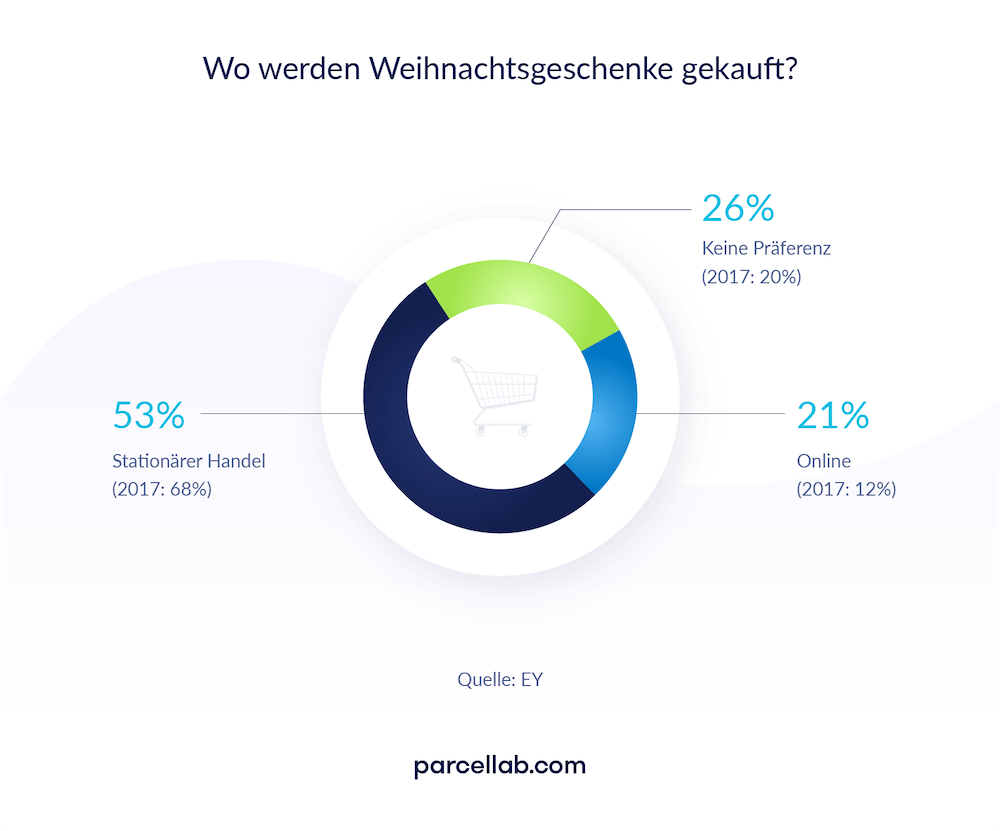 21 percent of Germans buy their Christmas gifts online.
Especially in the run-up to Christmas, this makes retailers sweat. Christmas is a particularly important time for e-commerce. There are a few Christmas shipping tips that will get online retailers through this time easier and stress-free.
Online retailers do a full 25 percent of their annual business in the run-up to Christmas.
This year's sales in Germany are estimated at 13.4 billion euros.
In 2013, it was still 8 billion euros.
Christmas sales in online retail are steadily increasing.
The number of gifts purchased online is therefore constantly increasing. Online retailers must therefore also optimize their strategies annually and respond to the wishes of their customers. Customer surveys and rating systems enable them to find out what consumers really want and where there is still room for improvement.
1. Learning from experience and fine-tuning the checkout process
Before this year's Christmas shopping season, retailers should take another look at last year's results. Where did things go wrong? Did packages not arrive in time for Christmas Eve, for example? What went wrong or wrong with Christmas shipping? What feedback came from customers? With this analysis, online retailers can avoid major faux pas during the Christmas shopping season and keep their customers happy all around.
Retailers want customers to buy from them. Logical! But to do that, they also have to make it as easy as possible for their consumers.
The checkout process plays a major role in completing a purchase. Unsuitable payment methods, high shipping costs and few to no delivery options lead to the customer bailing out. Most online shoppers have a favorite parcel carrier because it still delivered the necklace for the girlfriend on time or the porcelain bowl they ordered arrived in its entirety. If you let the customer choose between different parcel carriers, delivery options and shipping options themselves, you're on the safe side.
2. Communicate with shipping service providers
Sounds simple, but it is very important. The retailer should clearly communicate with the shipping service provider how much rush they expect this year, asking about the service provider's capacity. If the number of orders suddenly increases dramatically, the shipping service provider can react quickly if it communicates early enough. As a rule, it should not be a problem for the latter to increase the delivery volume by 20 percent. In this way, retailers can also tell their customers when they have to send off their order at the latest so that it arrives in good time before Christmas Eve.
By when do packages have to be shipped so that they arrive on time on Christmas Eve?
Depending on the size of the parcel volume to be handled, it may make sense to involve other shipping companies in addition to the regular shipping partners. This way, in the event of a flood of orders, you can fall back on them. However, test runs with these companies should take place in advance to determine how the cooperation works and to communicate problems in good time.
3. Catch online shoppers with express delivery and discount promotions
.
There they are every year again: the last-minute shoppers. But few want to push their way through crowds of people in search of the perfect gift at retail stores. So they try it online. Whichever retailer now offers express delivery is the winner. Same-day delivery is often a tricky issue at this time of year, as same-day delivery often can't be guaranteed due to the high volume of packages.
Those who entice customers in advance with discount promotions can also somewhat control the rush and the number of last-minute shoppers. Promotions mean that customers often buy their Christmas gifts earlier, rather than at the last minute. It is therefore advisable to start early with discount promotions or free shipping for a certain period. Gift-seekers can thus get their Christmas shopping done early and also save money - and the rush in the week before Christmas Eve hopefully stays away.
4. Ensure proactive communication
A wide selection of shipping retailers and shipping options can have a positive impact on customers' purchasing decisions. However, those offering same-day or next-day delivery should deliver on their promise. After all, keeping to the promised time is particularly important to customers. Of course, delays can occur if there are too many orders. If the retailer contacts the customer in good time, service requests and complaints can be averted more easily.
In the stressful pre-Christmas period, too, particular importance should be attached to personalized shipping messages. After all, not only are retailers under stress, but so are customers. If a positive relationship is created between the two, customers will remain loyal to that store because they felt particularly looked after there.
###See shipping messages in action even at Christmas!
5. Using Returns as an Opportunity
After all the orders, there's still a lot of work to be done by retailers. After all, returns rates are particularly high during and after Christmas. We are talking about returns. But offering free and easy returns move potential customers to buy. Although online retailers often see returns as a lot of work, it can be a great opportunity for them. The assurance that, if the worst comes to the worst, customers can easily send goods back increases their willingness to buy.
[tooltip title="Tip for a better returns process" color="green"]Make the returns process as simple as possible. The easiest way for the customer is to have a return label already created and enclosed with the order. For them, this means simply peel it off, stick it on, and send it back.[/tooltip]
Conclusion
Online retailers can make the Christmas business a little easier with a few tricks. Those who bring additional shipping service providers on board when there is a particularly large rush are on the safe side. It is particularly important to be in constant contact with them. Offering potential customers a simple checkout and returns process will encourage them to stay. Last-minute shoppers should also be given the opportunity to receive their gift on time with appropriate delivery options. However, this promise must also be kept.
In the event of delays, the following applies in principle: inform in good time! If retailers take shipping communication into their own hands and rely on personalized messages, they can win over customers. To alleviate the rush and the number of last-minute shoppers in the last weeks of December, promotions are recommended. Customers then order a little earlier and save money too. With these Christmas shipping tips, online retailers can hopefully relax a bit this year.
Written by
Create new reasons for people to love your brand. Build standout post-sales experiences tailored to your customers. Deliver personalized touch points that grab attention and spark loyalty.
Read more from parcelLab
More from the category Trends